We offer carefully curated personalized online training for Consciousness Development with original methods to help you explore, empower, and transform your Self. The highlight of our training programs are the online integration sessions where you will receive personalized guidance. 
We offer short-term training for those who want to learn, dive deep, and get a taste of our methods, as well as long-term training for those who are ready for a deeper commitment to their transformation and growth. We accept people at all levels of their development, including skeptics and cynics who are curious.
Our primary focus in everything is Consciousness Development. You can learn more about the intention, approach, and methods we use at our virtual school.
Why do we use "training" instead of "course" or "training program"?
Earlier we used the word course to describe what we are offering and you may still see course used in places where we have not yet updated our site or in old blog posts and videos. We updated to use  the term "training" for the following reasons:
A course or training "program" is understood to have a predefined outline and structure for learning, often in a passive way. 
Training indicates a dynamic, active method that includes learning and application with personalized guidance, which better reflects our approach.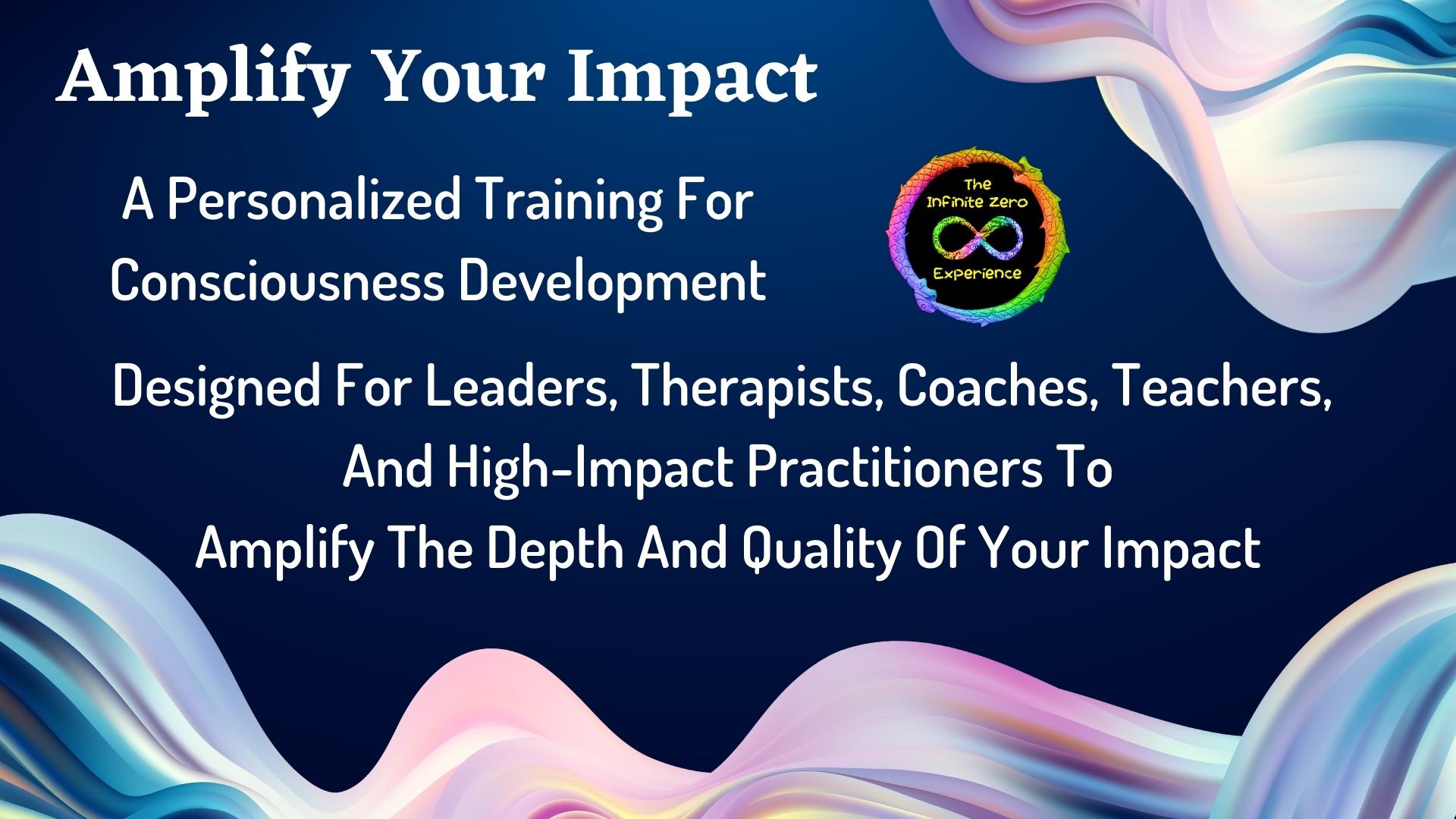 This private training is designed specifically for people who are already making an impact in the world, including leaders, teachers, therapists, coaches, healers; who want to amplify the quality and depth of their impact by developing their own Consciousness to higher levels. This is a deep impact training designed for people who are prepared and ready for intensive transformation in their Life, Self, Being & Beyond.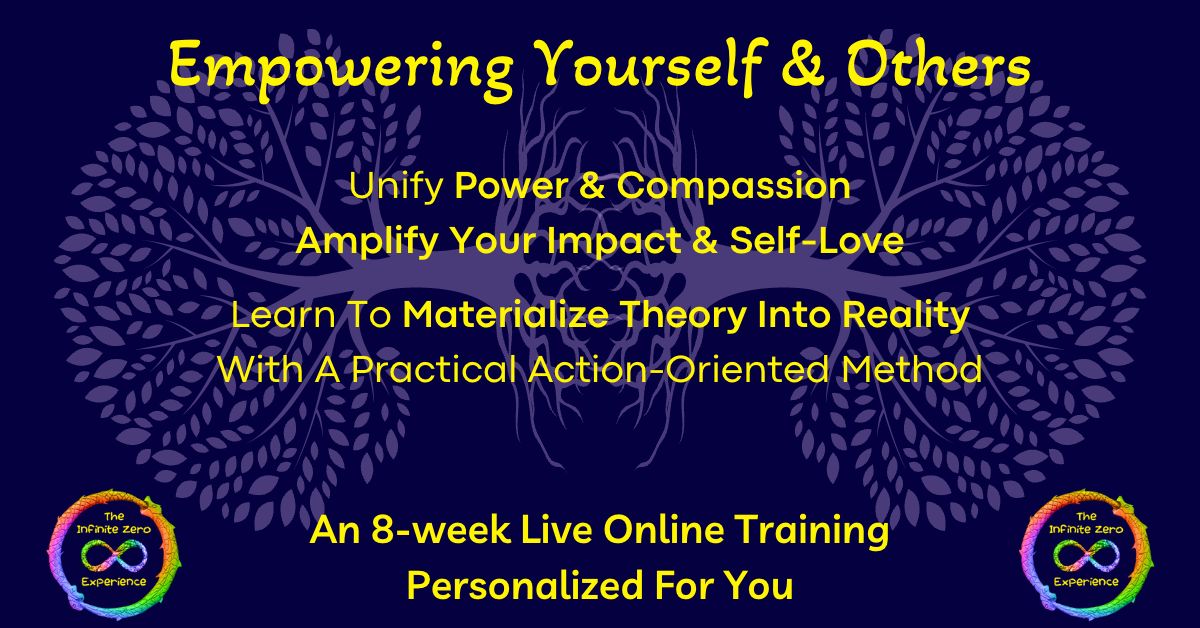 Empowering Yourself & Others
Our 8-week intensive personalized training with 8 online integration calls will give you plenty of information and practice to learn about disempowering mindsets and patterns of behavior, as well as tools to transform these patterns to become someone who is self-empowered and able to empower others without unconsciously enabling disempowering behaviors and attitudes. The page below includes more details including who is best suited to benefit from it and the potential lessons that you can learn while participating.
Full Spectrum Healing & Growth
This training is designed for people who want to make a long-term commitment to explore, transform, heal, and grow in every aspect of their Consciousness. Available as 6-month and 12-month subscriptions in which participants come together in weekly integration calls to practice and learn the various methods including Study of Self, Unschooling the Unconscious, Consciousness Nomadism, The Fourth Way, and personalized techniques developed for you.
We train people who want to cultivate the skills and develop their Being as a Trusted Guide. This training is usually offered to clients who have been training with me for over a year. I make exceptions for exceptional beings. Schedule a call to discuss and explore possibilities.
Testimonials of Long-term participants
Personal development is my hobby. I've learned and practiced many techniques and used number of tools before working with Ti0. I found his approach the most practical and working with the group is the most life-changing journey I've ever been on.
I have to admit that I underestimated the power and benefits of the group participation. It truly helped me to shift into more authentic self - something I've tried but could not succeed on my own.
I am amazed at how skillfully Ti0 leads the group and the powerful mind-blowing questions he poses. It's been a blessing discovering this course, become part of the group, and being led by a facilitator who is real, knowledgeable, supportive, and encouraging.
Inna
Participating > 9 months
Ti0 offers a practical, no-nonsense approach to personal development and philosophy through an array of topics not typically focused on the usual groups. I've done a lot of courses, retreats, workshops, did coaching, did traditional therapy, did hypnotherapy, taken a fair cocktail of medications, read countless books, listened to countless podcasts and more for over a decade, and can say with confidence this is very different material, and different in how the material is engaged with...

(click button below for the full testimonial)
@Daphne
Participated > 18 months
Ti0 offers a truly unique perspective on psycho-spiritual development, one that is grounded in practical philosophy and hard-won insights of his own. He is exquisitely sensitive, able to detect the subtlest nuances of psychological dynamics and zero in where people are stuck. I continually marvel at Ti0's ability to cut through to the core issues with surgical precision. This might all be very intimidating if it weren't so well balanced with genuine humility and compassion...

(click button below for the full testimonial)
Jess @dragonfly
Participated > 2 years
When I started working with Ti0 in 2018, I had severe depression, poor physical and mental health, and several addictions. Through several techniques and exercises outlined in the Study of Self, I have had several insights on my anti-patterns. And as mentioned before I was able to use my own power with the support of a close-knit community to overcome a lot of them.

Before I share some of my results, I'll say this, the work is not a magic pill. You get results based on the effort that you put in.

(click button below for the full testimonial)
Sushil @217
Participated > 4 years
Learning from Ti0 has been life-changing and unlike anything else I've encountered. I find it difficult to express myself, but he has this uncanny ability to get to the heart of the matter and bring clarity to the chaos. It's empowering to have someone see you for your potential. Ti0 is patient and supportive without enabling me, I feel safe to be raw, weird, messy and go at my own pace. The lessons I've learnt so far have been mind-bending and working with him [and the group] leaves me feeling more optimistic than ever before...

(click button below for the full testimonial)
@Liis
Participating > 3 years
After two and a half years of work with Ti0 and the group, I can still say that it is the most effective and realistic spiritual work I have engaged in my life... The work taught me how to really heal the roots of my traumas, and the guided meditations and personal feedback of Ti0 during the sessions have led me to express and release many of these.
Very noticeable changes that occured while I have been part of the group are : the soothing of my relationship with my parents. The possibility to enjoy life more than before. The new perspectives on what I considered before evil and "bad" and how these projections were repressed in myself. The possibility to take the most out of any life experience that presents itself to me, without feeling like a victim but choosing willingly to engage...
(click button below for the full testimonial)
Thomas @Palopoli
Participating > 3 years
I think you are an excellent communicator of concepts around a practical spirituality and creating and maintaining conscious awareness! Far too many times the mentors I've found are too cryptic or perhaps secretive and doesn't resonate with me, and I find it hard to internalize the teachings. You are incredibly well-rounded in your communication and background in psychology and spirituality that it almost always resonates well with me. Not only at an intellectual level, but I can also integrate your wisdom into actual practice of building my conscious awareness and maintaining balance in my life.

(click button below for the full testimonial)
@Miche
Participated > 6 months
Ti0 is a genuine, intuitive-healing spirit that is open and non judgmental; this is vital in establishing trust and a sense of belonging. Our path crossed at a time when I most needed it and I received support and tools to work through some serious sadness and a sense of loss that had me trapped for years… It was and still is a process, but I am in a much better place.
Ti0's approach is generous in regards to the amount of time he spends with you and how giving he is of himself. The sessions are not "magic", they require work, commitment and honesty with yourself to benefit and you also learn from others in the group as they process. I am very, very grateful to have met Ti0 and to have had the privilege to work with him.
(click button below for the full testimonial)
Sophia
Partcipated > 8 months
Life-changing is simply an understatement to describe these sessions.
A single session changed my life! Thankfully I didn't just stop there as I had signed up for a package and got something even more mind-blowing. After 6 sessions I realized this work had changed me at fundamental level! I finally realized the difference between what Ti0 calls life-changing and I-changing. What a gift!
Elle
Private Counseling ~ 3 months
There are few people who have the clarity to look at and through the real matrix we all live in, and this powerful gift that Ti0 has cultivated is invaluable! The course and Ti0 helped me see through the various traps I was caught up in since childhood and self-perpetuating even today! It's incredible how quickly I've been able to change some deep rooted issues which kept me in a loop of endless suffering. A powerful experience for anyone who is ready, which I think is very important. This is not something to try out just for fun, this is deep work.
Ally
Participated > 8 months
Watch the short videos for particular questions using the toggles below OR use the button below to watch the video FAQ playlist on YouTube.